By

9 months ago
And here it is guys, Counter-Strike: Global Offensive is finally available to pre-order on Steam. With a price as low as $15 this game will sell like crazy, and currently has a 10% discount. We hope to see some more outstanding maps and other content from you guys.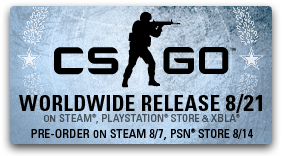 With about two weeks to go until release we will try to cover more special things about CS:GO. Keep your eyes open. If you guys have some ideas to bring some attention to our most favorite game on GameBanana let us know in the comments below.
Also a complete Counter-Strike Pack is available and is 66% off!
[UPDATE]
Players who pre-purchase will receive a 10% discount
All players who pre-purchase will gain access to the beta on August 14th
The beta will continue for all current testers and pre-order players until the release of the game on August 21st

They will update the game before August 14 and all the patches you can find here.